Bartender Mark Young, and bagpiper Grant MacLeod outside the World's Smallest Whisky Bar (Photo credit: Tom McCormick)
To mark the opening of a new office and brand home in central Edinburgh, award-winning independent bottler and cask whisky specialist Cask 88 wanted to give a boost to their visibility in their home city. To reinforce the message that the little things in life - like their small batch, single cask whiskies - are worthy of celebration, Cask 88 transformed one of Edinburgh's 142 classical police boxes into a very wee whisky bar, the world's smallest, to be exact.
On Prince's Street in central Edinburgh, and sitting alongside the brand home of another major whisky attraction, the bar was perfectly located to capture the attention of local people, and visitors to Edinburgh, throughout the busy festival month of August. The exterior of the box featured greetings in 20 international languages and a QR code allowing passers-by to book their slot in the world's smallest whisky bar.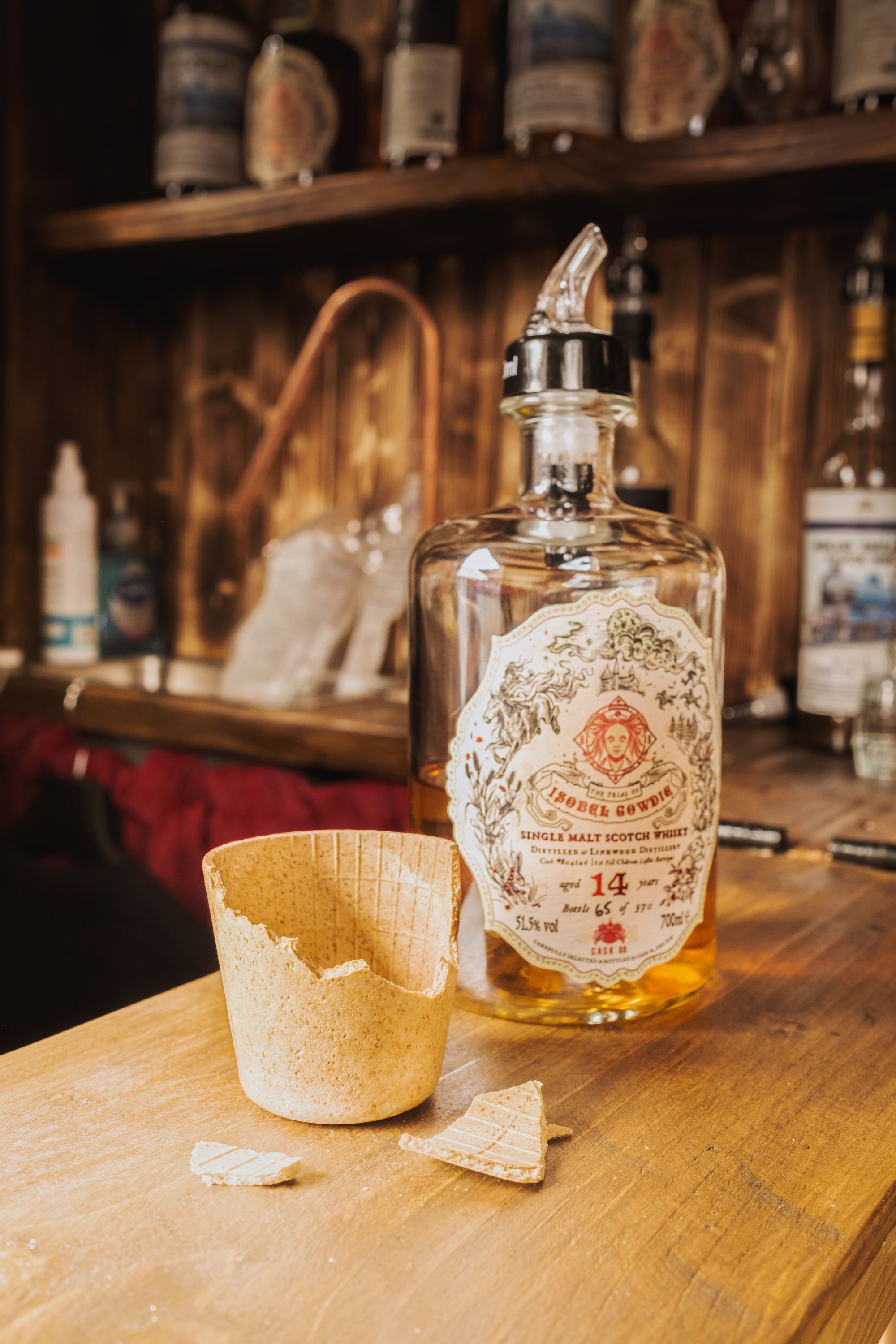 Nearly 1,300 participated in a 10-minute, personalised, sustainable and immersive brand experience to sample a dram of Cask 88's single cask whiskies (free of charge) and over 350 tickets (half the available slots) were booked throughout the first weekend.
We also facilitated (probably) the world's smallest brand takeover, by welcoming a genuine innovator in the whisky industry to take over our bar for a day.  As a distillery founded with sustainable goals in mind, Nc'nean is an example of what
the future of distilling looks like. In addition to being Scotland's first distillery verified net carbon zero, Nc'nean uses 100% organic Scottish barley and the distillery is powered by 100% renewable energy.
Media coverage highlights:
Edinburgh Live (2,804,794 monthly unique views) x2
Daily Record (Circulation 33,400,000) x2
Scottish Field (67,500 monthly unique views) x2
Bite Magazine (153 article views)
Robb Report (933,333 monthly unique views)
Belfast Live (37,000,000 monthly unique views)
Wales Online (10,888,000 monthly unique users)
Scottish Business Insider (140,534 monthly unique users)
The Scotsman (7,600,000 monthly unique users)
Scottish Sun (2,700,000 monthly unique views)
The Edinburgh Reporter (TBC)
Daily Motion (300,000,000 monthly unique users)
Daily Mirror NI (estimated 676,400 readers for print in NI, based on 3,382,000 for UK circulation print & digital)
TimeOut Mag London TikTok (104,200 followers)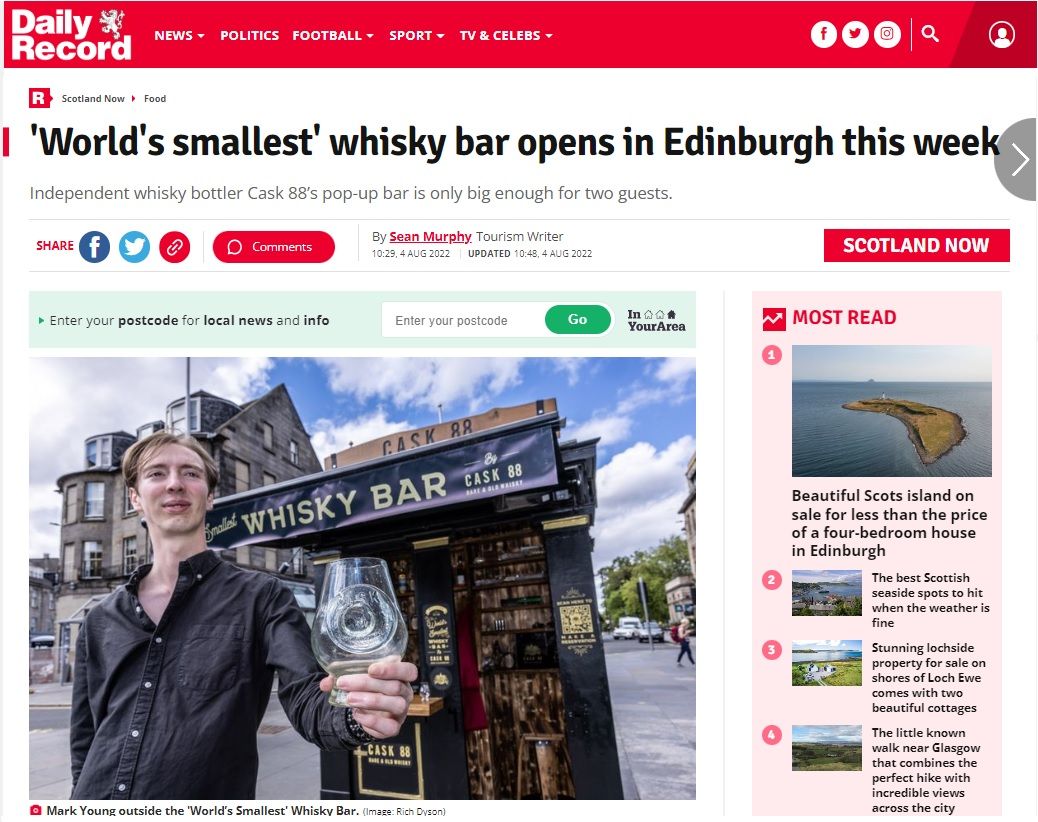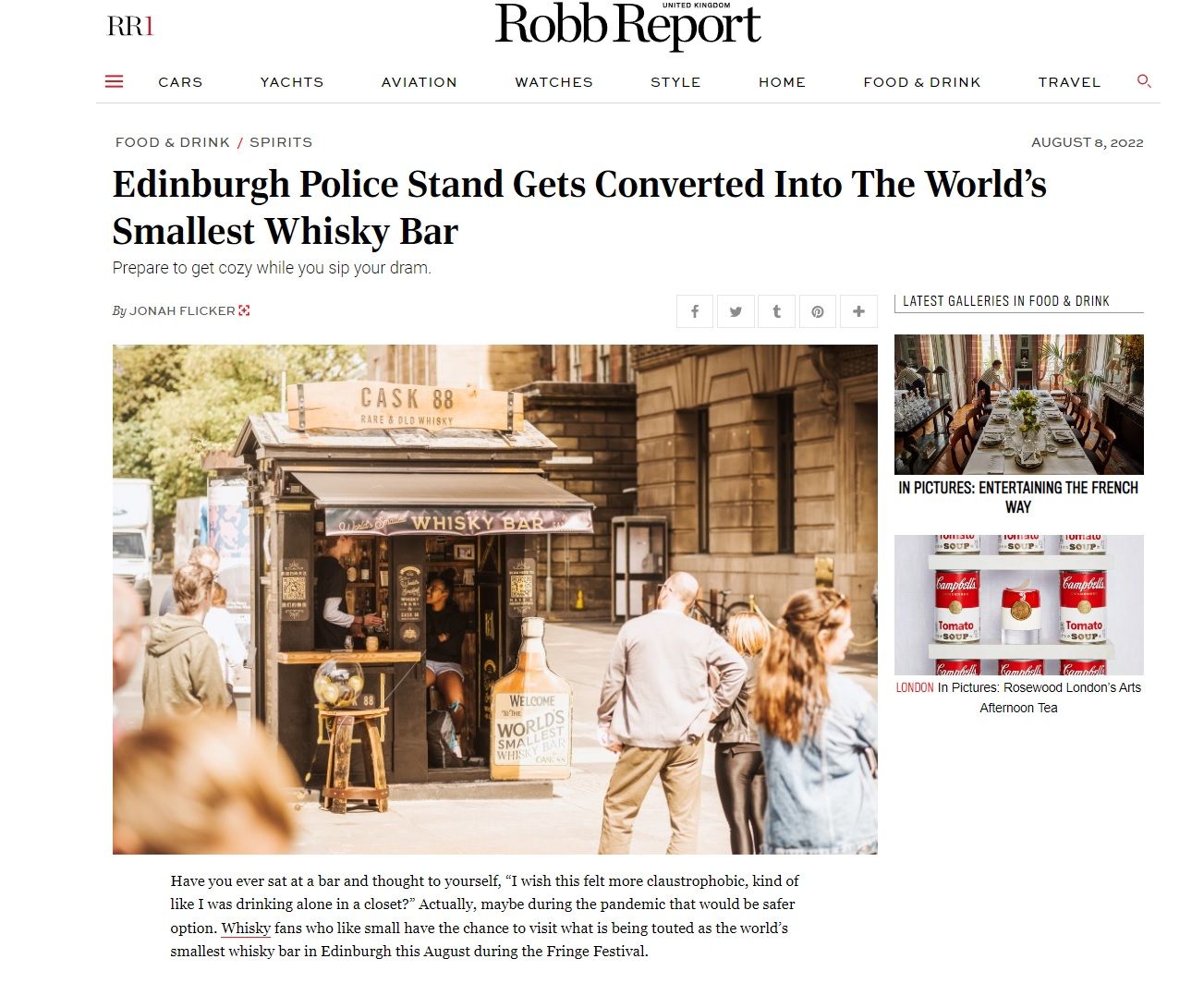 The Success of the World's Smallest Whisky Bar Campaign in Numbers:
● Media coverage with an estimated reach of 432.6 million;
● e-Newsletter subscriber numbers up 37% from the previous month;
● Website visitor numbers up 50% from the previous month;
● Social media followers up by 14.5%;
● Facebook review rating rose from 4.2 stars up to 4.9 stars.
For our efforts, we were awarded a BOC 2022 'Brilliance Award' in the category of PR/Marketing.